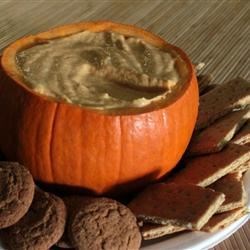 You may be thinking this sounds like an amazing idea for a chip dip! Or you may be thinking this would be a really weird combination to even try. I personally thought it sounded really weird but I'm always looking to try new things. Whether it's around Halloween or your just looking to try something new, this is a great recipe you can try that is gluten-free and can be dairy free too. Enjoy!
Ingredients:
1 (8 ounce) package

cream cheese, softened

(Tofutti Cream Cheese is Dairy Free)

1 (15 ounce) can

of

pumpkin

2 cups

confectioners' sugar

1 Tbs.

ground cinnamon

1 Tbs.

pumpkin pie spice

1 Tsp.

frozen orange juice concentrate
Directions:
In a medium bowl, blend cream cheese and confectioners' sugar until smooth. Gradually mix in the pumpkin. Stir in the cinnamon, pumpkin pie spice, and orange juice until smooth and well blended. Chill until serving.